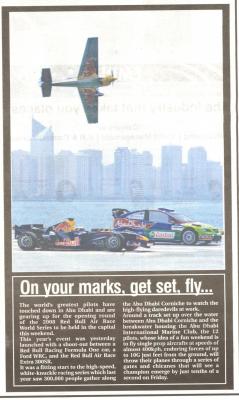 http://www.redbullairrace.com/
ON YOUR MARKS, GET SET, FLY…
The world's greatest pilots have touched down in Abu Dhabi and are gearing up for the opening round of the 2008 Red Bull Air Race World Series to be held in the capital this weekend.
This year's event was yesterday launched with a shoot-out between a Red Bull Racing Formula One car, a Ford WRC, and the Red Bull Air Race Extra 300SR.
It was a fitting start to the high-speed, white-knuckle racing series which last year saw 300,000 people gather along the Abu Dhabi Corniche to watch the high-flying daredevils at work.
Around a track set up over the water between Abu Dhabi Corniche and the breakwater housing the Abu Dhabi International Marine Club, the 12 pilots, whose idea of a fun weekend is to fly single prop aircrafts at speeds of almost 400kph, enduring forces of up to 10G just feet from the ground, will throw their planes through a series of gates and chicanes that will see a champion emerge by just tenths of a second on Friday.