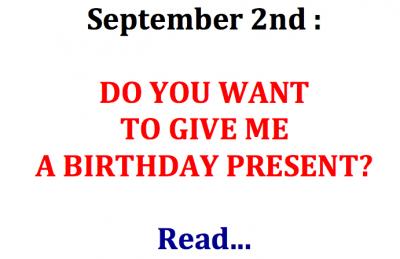 Here you are a good opportunity to give me a present that for sure I am going to like.
On Sept. 15 and 16, 2012, I am going to participate with my team in a competition in Shanghai called ¨Moronathon 2012¨
1.- WHAT IS THAT ABOUT?
It is a relay run/walk. There is a 5km. circuit around a lake in Shanghai (China) and at any moment a member of the team has to be walking on running on the course. The idea is to see what team is able to cover more kilometers, even though in our case we go just to have fun, with no many expectations to cover a lot of distance. Registration is closed and we will be 230 runners in 40 teams. This is the official Website: http://www.moronathon.org/
2.- VICTORIOUS SECRET TEAM
This is the name of our team. We are two ladies and four gentlemen:
S : Luis Valencia
E : George Qiu
C : Yvonne Zhu
R : Ada Ma
E : Terry Lu
T : Myself
3.- MY BIRTHDAY PRESENT – Donation to ¨Pass Love¨ Foundation
Website: http://www.en.passlove.org/
Apart of being a sport event all the teams are trying to raise funds for this foundation, and I explain what is it about.
¨It was recently estimated that roughly 8 million rural children in China have no access to reading materials other than textbooks. Literacy is a basic human right. However, poverty has put these children at a significant disadvantage, casting a shadow on their early development with long lasting effects.
Back in 2004, founding members of PLCF started sending books to thousands of rural children. In the first two years of its existence, PLCF carried out projects (collectively called Pass Love Project) to aid children in some poor areas of China by providing books, tuition assistance, and short-term teaching assignments with varied results.
Learned from its early experience, in 2008 PLCF was formally established - to physically establish quality libraries in poorest areas of China to help rural children and teachers. The program has rapidly established 22 such libraries (click here for details). By providing quality books and child-friendly library environment and by engaging children with books in meaningful ways, the Dandelion Village Library Program effectively sparks children's passion for reading and helps them develop a lifelong habit of reading.¨
Among all the teams we are trying to raise funds to build a library in an elementary school called Yuanzhai, in Anhui province, not far from Shanghai.
4.- HOW CAN YOU COLLABORATE?
Our team for sure is not going to be among the first 20 in number of kilometers in those 24 hours. But we do want to be among the first ones in money raised for that library. Therefore, if you think it is a good cause, you want and you can afford it I invite you to make a donation. It could be a dollar, 5, 10 or whatever amount.
You could make the donation in several ways. In any case, please indicate:
¨24 hour moronathon Victorious Secret (your name)¨
OPTION 1 – GIVE IT TO ME IN PERSON, if you are close to me.
OPTION 2 – INTERNATIONAL TRANSFER TO THIS BANK ACCOUNT
BANK OF COMMUNICATIONS SHANGHAI BRANCH
SWIFT CODE: COMMCNSH
BENEFICIARY: SHANGHAI UNITED FOUNDATION
ACCOUNT NUMBER: 3100 6658 0146 3100 02037
OPTION 3 – TRANSFER WITHIN CHINA BANKS, IN RMB
户 名:上海公益事业发展基金会蒲公英乡村图书馆专项基金
账 号:8800665800181008
开户行:交通银行上海浦东分行
OPCIÓN 4 – PAYPAL OF THE FOUNDATION ¨PASS LOVE¨
This is the link that appears in the Website, but I don´t think it works.
OPTION 5 – MY PAYPAL
Send me a message to jcastroguinea@yahoo.es with the money you want to donate and I will send you a link to make the payment.
5.- DEADLINE TO MAKE THE PAYMENT
September 10.
6.- THANKS AND CREDIT
Finished the event I will edit a video and I will upload it in Youtube. At the end of it the names of the friends who made a donation will appear.
Also I will write an entry in my blog with the names.
If you make a donation through any of the 5 ways mention above please also send me a message to jcastroguinea@yahoo.es
We appreciate your donation if you can make any.
If not, we also appreciate you reading this and being aware of this problem.
Cheers!
Castro.