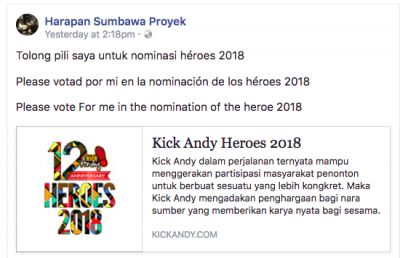 Many of you may be familiar with the NGO ¨Harapan Project¨, that works in the Indonesian island of Sumbawa, improving the lives of the community in Hu´u, specially focusing in education and improvement of health conditions. Thanks to your support, when I run the Antarctic Ice Marathon, we were able to donate 3,225$ to that NGO.
Carlos Ferrándiz continues untiringly his work, and thanks to his efforts he has been nominated for the ¨Hero of Indonesia 2018¨ Award. Well deserved, no doubt!
http://m.metrotvnews.com/play/2018/03/01/838552
That by itself is already a great recognition, but to put the icing on the cake and win the award he needs our votes. You could give him your support here:
http://www.kickandy.com/heroes/
You scroll down and look for his name: ¨Carlos Ferrándiz¨.
You clic on his photo, where it says ¨baca profile¨, that means ¨read profile¨.
You scroll down, and clic on ¨vote Heroes¨. There you introduce your info:
Nama lengkap: your name
Alamat : address
Kota: city
Provinsi: province
Nomor hp: telephone #
Email
And clic on ¨vote¨.
Siap! You have done the good action of the day!
If you want to know more about what this NGO does, here you are a fantastic 1 hour documentary:
https://www.youtube.com/watch?v=y4-cFHGI2OY&t=193s
And this is their Web:
Thanks!