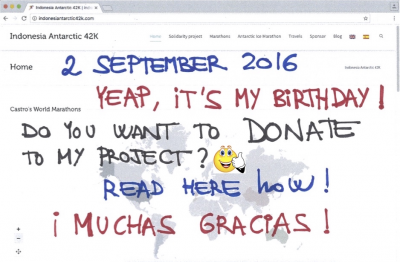 Hi buddy!
Today I celebrate my birthday and I start this new tour around the sun with a couple of challenges ahead:
- Running a marathon in Antarctica on November 24.
- Raising $12,000 for two NGOs in Indonesia that are doing a fantastic job.
For the first one you can cheer for me, but I am the one who will need to cover the 42,195 m. on the ice.
But you can help me to successfully complete the second challenge. Could I count on your support donating some $$ for the cause? Also sharing this message would help a lot.
Here I explain how you could donate.
So far we have achieved almost 25% of the goal, that is great!
100% of your donation will go to these NGOs: Kupu-Kupu Foundation (Bali) and Harapan Project (Sumbawa). You can read more about them in my Website:
http://indonesiantarctic42k.com/solidarity-project/
Thank you very much!!!! ¡Muchas gracias!