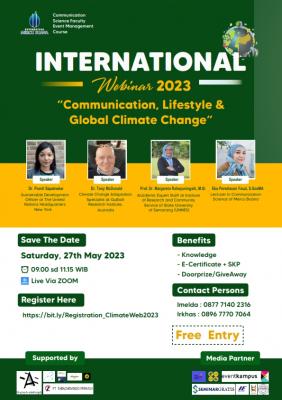 Dear Friends,
Please find below the information about a webinar organized by a university in Jakarta. An Indonesian friend will be moderating it and no doubt it will be an interesting and informative event.
---------------------------------
🌏 INTERNATIONAL WEBINAR 2023: COMMUNICATION, LIFESTYLE & GLOBAL CLIMATE CHANGE 🌏
As the effort to participate in information and knowledge sharing about the Global Climate and its association to the Communication Science and Lifestyle, the students of Communication Science Faculty of Mercu Buana University will be holding an International Webinar entitled "Communication, Lifestyle and Global Climate Change". The event will present the following speakers:
1. Dr. Poorti Sapatnekar (Sustainable Development Officer, the United Nations Headquarters New York)
2. Dr. Tony McDonald (Senior Environmental and Climate Change Adaptation Specialist, Gulbali Research Institute, Charles Sturt University, Australia)
3. Prof. Dr. Margareta Rahayuningsih, M.Si (Academic Expert Staff at the Research and Community Service Institute, Semarang State University)
4. Eka Perwitasari Fauzi, S.Sos, MA (Lecturer at the Faculty of Communication Science, Mercu Buana University, Jakarta)
Save the date!
-Saturday, 27th May 2023
-09:00 to 11:15 WIB (Western Indonesia Time)
-Virtual Zoom Meeting
-Free registration
Benefits
-E-Certificate
-Knowledge
-Door prize
Registration will be closed on 24th May 2023