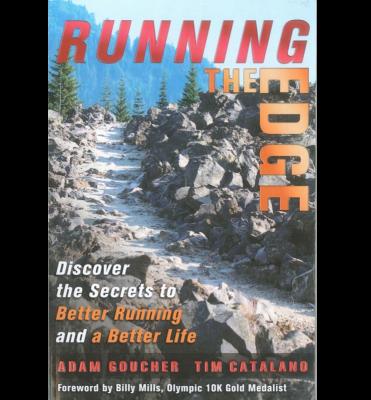 The last book I read is called ¨Running the Edge¨, and it is written by Adam Goucher and Tim Catalano. Both are runners and good friends. They met at the University of Colorado running in the cross country team (1994). After their college years Adam became a professional runner and Tim became a psychology teacher.
I don´t have the pleasure of knowing Adam personally. Professionally, his records indicates that he had a very successful career:
- He won eight individual U.S. championships.
- He qualified for the finals in the world championships in track and cross country seven times.
- In 2000 he represented the United States in the Sydney Olympic Games.
Even though he retired from professional running last November 2011 he declares he is far from being retired from running. Because... he is a runner!
Adam´s wife is also a very successful runner. Kara Goucher also graduated from the University of Colorado, and these are her impressive major achievements in her running career:
- 3.000 meters bronze medalist at the 2006 Word Cup (celebrated in Athens, Greece)
- 10.000 meters bronze medalist at the 2007 World Championships in Athletics (celebrated in Osaka, Japan)
- Represented U.S.A. at the 2008 Beijing Olympics
- 3rd position in her debut in marathon, at the New York City Marathon 2008
- 3rd position at the Boston Marathon 2009
- This is something that I followed on-line through the updates in this Facebook page: http://www.facebook.com/RunTheEdge :-) Kara finished third at the U.S. Olympic marathon trials on January 14, 2012, in Houston. Because of that she qualified for the London 2012 Olympic Games. Congratulations!
I don´t know this couple, but I have the pleasure and honor of knowing Tim Catalano. We taught together in Dubai at a school called Dubai American Academy. A couple of memories from those two years we worked together:
- He was definitely a role model for other teachers. In my eleven-year teaching career I have only seen a few teachers as involved in school as Tim and his friend Todd Lile were in Dubai. Apart of teaching his classes and coaching, Tim was always organizing events with Todd to keep the kids involved in positive things. The chances of going to Tim´s room and finding him alone preparing his classes were minimal. Always there were kids there either hanging out, asking questions or trying to absorb some of his wisdom. On the other hand chances of asking a kid ¨who is your favorite teacher¨ and hearing any of those two names were pretty high.
- In that school, teachers had to wear a shirt with a tie. Tim had a funny tradition. He didn´t wear a tie twice in the 190 days of the school year. He challenged the students to give him the ugliest tie, that he would wear it. Students loved that, so they give him many ties that he hanged up at the wall of his class after wearing them. The collection every year started at 0 and continued growing and growing. It was something funny to see, all the UGLY ties that he wore during the school year hanging from the walls.
- In Dubai before I had the two motorcycle accidents I went to run sometimes to Safa Park. It was a good weekly run, because you run against your personal best. The perimeter of the park has a distance of 3.4 kilometers and you could run either one or two laps to the park. But it was not a race. Before starting you had to write your name and the time that you were expecting to do in a sheet of paper next to a number. You had to leave your watch at the starting point and run without that reference. At the finish line you shout that number to the organizers, and the closer one to the time he predicted was the winner. That means that even not being the first one you could still win :-) It was a great way to fight against your personal best every week and to hang out with other runners. Tim is the one who discovered this weekly run to me. He was well known by the runners and also the fastest one every week.
I have mentioned a couple of motorbike accidents in Dubai, at the end of 2005. After that I was able to run the Dubai Maraton in February 2006 –the fifth one- and that was my last one. I couldn´t run any more and when I went to doctors I was finally diagnosed with a herniated disc. I think it came after the first motorcycle accident on the night of Thanksgiving 2005, but you never now. The fact is that since that February 2006 I have never been able to prepare a race. I have done a couple of 5ks organized by my school, but that´s all. And 6 years have passed.
I miss running a lot. Still I do sports, like swimming or the elliptical machine at the gymnasium. So still ¨kind of¨ in shape to do some kilometers running when I feel like ¨what the hell, put your shoes on and run outside! ¨. I enjoy that a lot and then the following days the back reminds me not to do that again :-) But still I do that once in a while. Well, more frequently after reading the book :-)
So I miss running, and when I knew that Tim had written this book I knew I had to read it. The title says
¨Running the edge¨,
and the subtitle reads
¨Discover the secrets to better running and a better life¨.
At this point of my life better running was not very important, as it was almost inexistent. And better life... honestly, these motivational books about ¨be happy¨ and that kind of stuff bore me a lot. It looked like a bad subtitle to be a book that I would like. But as I knew it would happen, I liked it a lot.
From this book I have extracted a lot of good advices. It contains very interesting stories and I have enjoyed a lot reading it. I have realized that I have been 6 years without running, and I say that I miss it. But... do I really miss it? In that case, am I doing enough efforts to be a runner again? Or am I putting the excuse of my back because I am not tough enough and I am not enduring pain as I should? I have realized that my back hurts more when I am sitting down a lot of hours –something that being a teacher is difficult to avoid when you have papers to grade or classes to prepare-, when I don´t sleep enough, bad postures and yeah, running. But definitely running is not the only reason.
Before I started the book a couple of weeks ago, I also used to check the ¨Running the Edge¨ Facebook and Web pages. And my New Year resolution was to give running another try. Since the beginning of January I have been running about 3 times per week. Very carefully, not fast, but enjoying more than ever every single step, recovering a feeling that I didn´t have for a long time. I may be at a good time before my back says ¨stop¨, or I may be facing the reality with another aptitude, after reading this book. I think it is a combination of both, but definitely the book is shouting me ¨get out and run!¨.
Thanks Adam and Tim for writing it!
Now, when is the Spanish version going to be out so I can share with my Spanish friends and family? Get your hands on that! :-)
That´s all, off to some little Saturday running!