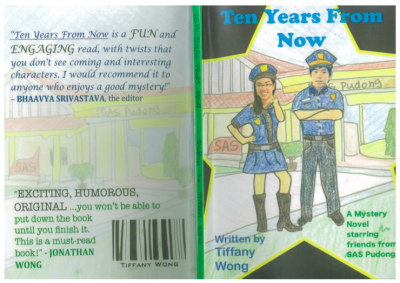 I had the pleasure of teaching Tiffany Wong during her junior year at Shanghai American School. I moved to Jakarta the following school year so during her senior year she had a new teacher. I think she didn´t hold that against me because this last June I received a package from Shanghai, and when I opened it, it was this book ¨Ten years from now¨ that Tiffany wrote. It was also signed with a nice note from the author, oh-oh! J
What is the novel about? These are a couple of reviews from the back cover:
¨Ten years from now is a fun and engaging read, with twists that you don´t see coming and interesting characters. I would recommend it to anyone who enjoys a good mystery!¨
-Bhaavya Srivastava, the editor-.
It happens that Bhaavya also is one of my former students. During my teaching career I have seen some students that love to read. They take advantage of any free second available to go back to whatever they are reading at that moment. If they finish their exams early they will not go to their computers but to their novels, and when you want to call their attention they will have to raise their heads from the pages that they were reading, because that is what they were doing. Out of those students that I saw that love to read Bhaavya stands out. I wonder how many books she can read per year… So to have a good review from her means something.
¨Exciting, humorous, original… you won´t be able to put down the book until you finish it. This is a must-read book! ¨ -Jonathan Wong-.
With this review my thought was that it is better to pick somebody with a different family name, because it looks very suspicious. There may be thousands of Wongs in the world but this may be his brother.
I had this book for some months in my to-read list, and I took it to a couple of trips with me. But I didn´t start it until early this week. The reason: I don´t enjoy reading in English much. I do read in English for fun when I have no choice and then it´s fine, but if I can avoid it I always jump for my native language.
However, as Jonathan Wong wrote in the review, once you start it you are not able to put the book down until you finish it. It is a mystery novel that happens in Hong Kong, where a unit of police inspectors tries to solve the circumstances behind the appearance of a couple of dead bodies.
The story it told in first person –one of the police inspectors- and her reflections are hilarious. You fall into the mystery and at the same time you laugh a lot with the comments of this policewoman. The chapters are pretty short and when you finish one you need to get to the next one to discover more about the story. It is very well written and I enjoyed it a lot.
Not long ago I watched in Youtube a video of three excellent writers –two from Spain, one from Peru- talking about their careers. And what they had in common is that since they were very little they wrote stories. They had the necessity of writing. I knew that Tiffany liked to write because before Tiffany transferred to my campus her previous teacher Josep Capilla told me that this new student had written an excellent book about her favorite group, The Beatles. But I was totally shocked when I saw at the end of the book a page saying:
Other books by Tiffany Wong:
- Blue Blue A Series (2004)
----- Blue Blue A and her Night Adventures
----- Blue Blue A and her Happy Feet
----- Blue Blue A and the Football Match
----- Blue Blue A and the Copy Cat
----- Blue Blue A and the New Stuff
----- Blue Blue A and Lunch in the Restaurant
----- Blue Blue A and her Happiest Day
- The Unlucky Holiday (2005)
- Teddy Bear Series (2005-2007)
----- Teddy Bear Going to Resort
----- Baby Bear and Teddy Bear Being a Grown Up Kid
----- Baby Bear and Teddy Bear Having Their Summer Vacation
- Something Behind the Bush (2006)
- Just Imagine, Have Fun With Imagine (2007)
- The Super Birthday Present (2008)
- A Million Years After Death (2009)
- Grandparents´ thrilling Adventure in Shanghai (2010)
- Choose Your Own Adventure: Hazel Eyes Behind the Curtains (2010)
- I´m a Little Plant (short story) (2010)
- For The Beatles: Let It Be & Rubber Soul (2012)
- Attending HKU at Age 16 (2012)
For somebody who is just 18 it is a loooong list of books.
Looking forward to read the next one, ¡BUEN TRABAJO TIFFANY!