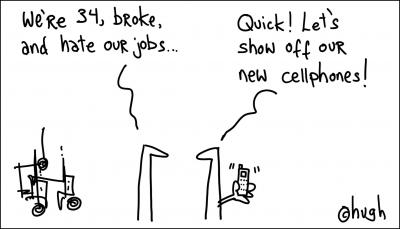 Fiesta para celebrarlos… ninguna. Un día de curro normal y corriente. Con la diferencia de que sí que recibí un montón de correos y llamadas, y eso siempre te hace ilusión. Las llamadas llamadas son, pero los correos los iré contestando poco a poco porque tengo unos cuantos.
Esta tarde he contestado los de 16 ex colegas de curro en Dubai. Están en inglés, y básicamente se han puesto todos de acuerdo en mencionar lo bien que funciona el Departamento de Lenguas Extranjeras y la escuela en general ahora que me he marchado J Son graciosos, así que ahí van, para los anglófonos que sepan de qué va el tema.
Unos cuantos regalos ya me he hecho. El sábado estuve en Decathlon y me dejé una pasta. Pero el mejor regalo ha sido poder volver a nadar, por lo menos, después del macro-tirón que me dio echando unos tiros. A ver si la semana que viene bici estática.
Gracias A TODOS por los e-mails y por las llamadas. Be good!
________________________
Subject: What a Difference
E-mail 1, from: Brad B.
Sent: Tuesday, September 02, 2008 9:15 AM

Good Morning –
I just wanted to express my excitement about how impressive the Foreign Language department is this year. The departure of some DEAD WEIGHT has really made room for some talented educators! There is a new feel and energy that really has been missing over the last three years. Everybody is happy, the kids are learning, aren't afraid to go to class, and i can just feel the positive outlook of all every time i walk down the hall. Our school is infinitely better with Sr. Roura, and Sra. Crick!
Thank you SO much!
- Who you are is more important than what you teach -
E-mail 2, from: Aitor R.
Sent: Tuesday, September 02, 2008 9:35 AM

That's totally true the atmosphere in department is way better!!! This year la jefa, is all the time smiling and happy, now like last year that she was all the time in a bad mood. Also have to mention the chess club, this year Chema is doing a superb job with the club, around 50 kids signed up, last year that club was a mess. Thank God that Castro left, now life is much easier in the department.
E-mail 3, from: Scott B.
Sent: Tuesday, September 02, 2008

Joder! I used to always walk down the other stairs to avoid that hallway. Now I always walk down the Language hall and sometimes I stop and hang out with the Juniors. I'm even thinking about eating lunch down there maybe next week. At first I thought maybe just the AC was working better than last year, but now I realize that the absence of the mullet muchacho is really addition by subtraction. Que Bueno!
E-mail 4, from: Ellen D.
Sent: Tuesday, September 02, 2008 10:20 AM

It is so funny you guys mentioned this, as I have noticed this difference both inside and OUTSIDE the school walls. I feel it most while driving. Knowing there is not some maniac Basque driver in a silver Seat (or motorcycle, for heaven's sake!!) cursing, honking and swerving around like a drunken camel on crack makes me feel more at ease. Sometimes I just drive up and down Sheikh Zayed at 5 p.m. on Thursday night simply to rejoice in the fact that Castro is not on the roads. This must be what true joy feels like.
E-mail 5, from: Andrew I.
Sent: Tuesday, September 02, 2008 10:37 AM

I was just down there today for the first time – I avoided it last year – and people were actually laughing in the hallways. And I can understand Jen and Chema and so won't need Aitor to translate Castro for me this year. And I really look forward to the Football pool being more professionally managed this year. It's all good.
E-mail 6, from: Justin M.
Sent: Tuesday, September 02, 2008 10:46 AM


I was just thinking this morning how much more peaceful and quieter the 8th floor is in the Al Adiyat building….No more funny sounding music coming out of apartment 810 at all crazy hours, and just a generally far more pleasant atmosphere up there. It's really great place to live this year.
E-mail 7, from: Brigitte R.
Sent: Tuesday, September 02, 2008 10:54 AM


You know what? Now reading about the disorganization, unprofessionalism, maniac behavior, bad mood, to mention a few, I UNDERSTAND why it was SOOOO difficult to learn Spanish with such a teacher! I had a goal to reach: be fluent after one year… I can only say "Feliz compleano" and "Hasta luego". Let's hope that I will have a better luck this year with Jen, Aitor or Chema!
¿ De acuerdo?
E-mail 8, from: Jose R.
Sent: Tuesday, September 02, 2008
No wonder why!!!! I just reviewed the teaching materials Castro left me and I can assure that were exactly the same ones Christopher Columbus used on his first expedition to America (He used different ones for the second one, so imagine…).
May be a coincidence, but yesterday the Spanish ministry of Foreign affairs said that "Spanish has experienced an unprecedented boost in the Middle East while dramatically reducing its growing in Asia, specially China"
Check the news, check…
E-mail 9, from: Todd L.
Sent: Tuesday, September 02, 2008
Can you imagine how calm Rugby 7s will be as everyone soberly and calmly sings in chorus to Neil Diamond's "Sweet Caroline" without buckets on their heads or smelly shirts? Probably God will even favor us with good weather! And better yet, no one will be tempted to get their hands dirty! (ew!!!) ETA has also been deprived of a key link in Dubai to Al Qaeda which can only make our school safer. Since we no longer have a communist/anarchist/terrorist who "hates our freedom" corrupting the minds of our fine students, even the smog over Al Barsha has lifted…
GO TEAM-WORLD-LANGUAGE!!!
E-mail 10, from: Dominique D.
Sent: Tuesday, September 02, 2008 11:27 AM

For sure, guys, you are right…. Have seen the staff room of the Language department ? SOOOO Clean , the coffee machine is so neat, and the fridge ? No more smell of leftovers laying there for days. We are really starting the year on a more hygienic and environmental note.
E-mail 11, from: Tony M.
Sent: Tuesday, September 02, 2008 11:32 AM


You have all captured the differences that I have felt since day one of this year. It feels like the language department has finally reached the potential we knew it had. In addition, the atmosphere down the old language hall is vibrant and stimulating. I'm not exactly sure what the cause is for this growth, but it must have something to do with the chemistry of the group. It is clicking to perfection! Thanks to all of you!
E-mail 12, from: Dina K.
Sent: Tuesday, September 02, 2008
I knew something was different but I couldn't put my finger on it. Now that you mention the change in staff in the Foreign Lang. department it all makes sense. That hallway is definitely a better place now.
I think the fact that Chema isn't as hairy as his predecessor has made a huge difference in terms of the students' ability to concentrate and learn. The students can focus on learning the language and not be mesmerized by how much the last teacher's beard could grow during one period. J
E-mail 13, from: Annie B.
Sent: Tuesday, September 02, 2008 12:03 PM

C'est vrai ! Quelle difference! Incredible …..
Thank you Aitor,we will be able now to create a real TEAM!
Even my family noticed : "You look more relaxed! Something new at school?"
Brigitte,you are sure ,you will try again to learn Spanish ? not completely discouraged?
What did I learn? : " Que pasa Jefa? " "Hola, Que pasa Jefa?" ………
Que pasa ? NADA ! RIEN! NOTHING!
Be positive : this year,something will happen!
E-mail 14, from: Ian E.
Sent: Tuesday, September 02, 2008 12:08 PM

I would have to agree with all that people have said. Castro was and is a fine individual, but as a teacher…………… Students that I have come across have already indicated how much more learning has taken place. They have also indicated how much more civilized the Rugby 7's may be. The worrying thing for many is that he may elect to return to this haven and spoil a great new year. J
E-mail 15, from: Claire M.
Sent: Tuesday, September 02, 2008
Well, sadly I would have to echo the sentiments of the staff. Teaching 3 grade 9 classes I have noticed that the Freshmen look a lot less flustered than they did this time last year. In homeroom and class I asked them if they were satisfied with their subjects and teachers and they all mentioned how excited they were about the High School Spanish teachers. They had heard a rumor about high school, something about this "Mr Castrol / Castro" teacher and how he used to scare the Freshmen with his giant untrimmed mullet, pink tie, and hairy face, grunting Spanish obscenities under his breath and swaggering up and down, side to side in the hallways, taking giant strides. They seemed hugely relieved to find a more "normal" Foreign Languages department with "normal-looking" Spanish teachers who are so passionate about their subject. "There is such a VIBE in the Spanish classes, you can feel the energy coming from Sr Roura and Snra Crick". J
E-mail 16, from: Tony D.
Sent: Tuesday, September 02, 2008
Hey anyone want to buy a BMW motor cycle? There is one for sale real cheap.....dropped-once and never started.

Tony D. :)

E-mail 17, from: Tom H.
Sent: Tuesday, September 02, 2008 10:54 AM
Subject: So happy for all of you...


I hope you can all put aside your love-fest to consider my plight here
in Shanghai. While my first couple of weeks here was tres enjoyable -- I
even managed to attend an Olympic soccer match -- a strange gloom
hovered over Shanghai American School following orientation, then struck
with vengeance on the first regular day of classes, Monday the 24th, in
the form of a 7am cloudburst which flooded several rooms in the school's
lower level (which we try to resist calling the "dungeon"). Among the
few rooms under a foot of water was that of the new Spanish teacher, a
shadowy Basque. No one knows much about him except that he was hired
late. This terrible omen was interpreted especially severely by the many
Mandarin teachers in the language department who reminded us that this
is the "Year of the Mullet", the most unfortunate year in the Chinese
zodiac. Even though the fans and dehumidifiers are still running 24/7 in
that room, while the swarthy owner teaches from the shadows of a
converted closet beside a Coke machine, a kind of "odor" has crept
out from that area. The music rooms are now uninhabitable and the main
office is next. Already it is crowded by anxious students and parents
who beg the school to find them refuge at Harvard University.
Fortunately the science department is the furthest in the school from
the creeping menace (on the top floor and bathing in the glow of many
skylights) and is expected to hold up indefinitely due to its rock-solid
reputation, which only grows with every new arrival. But for that, life
here would be Hell.
Tom