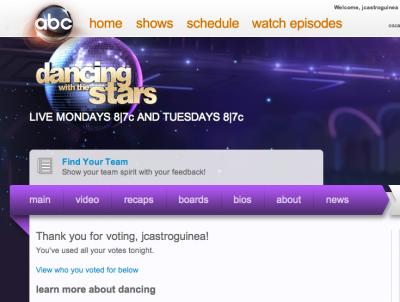 Dear friends.
In this blog I have mentioned many times the Jacaranda School in Malawi, Africa.
Malawi is a country with a high rate of people with AIDS. Because of that many little kids lost their parents and became orphans.
This Jacaranda School serves these orphans, making possible that they get an education.
ONLY IN THE NEXT 7 HOURS WE HAVE AN EXCELLENT OPPORTUNITY TO HELP THEM OUT!
There is a program called ¨Dancing with the starts¨, in the American TV Channel ABC.
The program is a contest where famous people dance, and every week a couple get eliminated.
We are now at the last stage, in the last 7 hours to vote for the winner.
And I ask you to PLEASE vote for this couple: RICKI LAKE and DEREK HOUGH
Why?
Because if they win, they will donate their winnings,
FIVE HUNDRED THOUSAND DOLLARS 0,000
to the Jacaranda School.
This is the link.
http://vote.abc.go.com/shows/dancing-with-the-stars/vote
PLEASE VOTE VOTE VOTE.
IT IS ONLY OPEN TODAY, TUESDAY NOV. 22, AND ONLY UNTIL
- 8 A.M. IN WASHINGTON, USA
- 2 P.M. IN MADRID, SPAIN
- 9 P.M. IN SHANGHAI, CHINA
VOTE NOW!!!!!! You can do it 5 times.
GRACIAS
P.s. AFTER YOU VOTE you could check different articles about Jacaranda –in Spanish- posted before in this blog. Maybe you are interested in sponsor one of their kids?
24/01/2009 – Orfanato en Malawi – Campaña para recaudar fondos
10/05/2009 – Los beneficios de la taquilla iban destinados a Jacaranda
26/09/2009 – Maria Silva – Jacaranda Foundation
07/04/2010 – El bote de March Madness va para Malawi
15/11/2010 – Patrocina la educación de un huérfano en Malawi