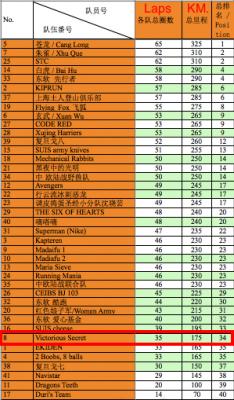 The results of the Moronathon have been published.
1.- STANDING – LAPS/TEAM
It can be downloaded from this Website:
http://www.moronathon.org/results.html
Out of 40 teams we have finished in 34th position :-) Sixth starting from the bottom! In 24 hours we did 36 laps X 5 km. = 180 kilometers.
The organization marked us 35 laps but it doesn´t matter because it doesn´t change the standings and if it would have affected it... we wouldn´t mind either, they were great!
Special mention to the superlatives:
- 1st male team = 325 km.
- 1st mixed team = 310 km.
- 1st female team = 215 km.
- 1st individual male athlete = Eloi Gueney = 95 km. only himself
- 1st individual female athlete = Siobhan McHugh = 90 km. only herself
Amazing!
2.- STANDING ACCORDING MONEY RAISED PER TEAM FOR THE LIBRARY
This is the great new: WITH THE MONEY RAISED TWO LIBRARIES WILL BE BUILT! :-)
The organization of the Moronathon –way more transparent than the Spanish politicians- have sent us a very detailed Excel file with all the accounts.
Waiting for some teams to donate what they promised a total of 138,790.47 RMB (=16,830 Euros) have been raised.
In this table our standing improves, as we are the 4th team that raised more money. And we owe that to you. THANKS A LOT FOR YOUR SUPPORT! :)