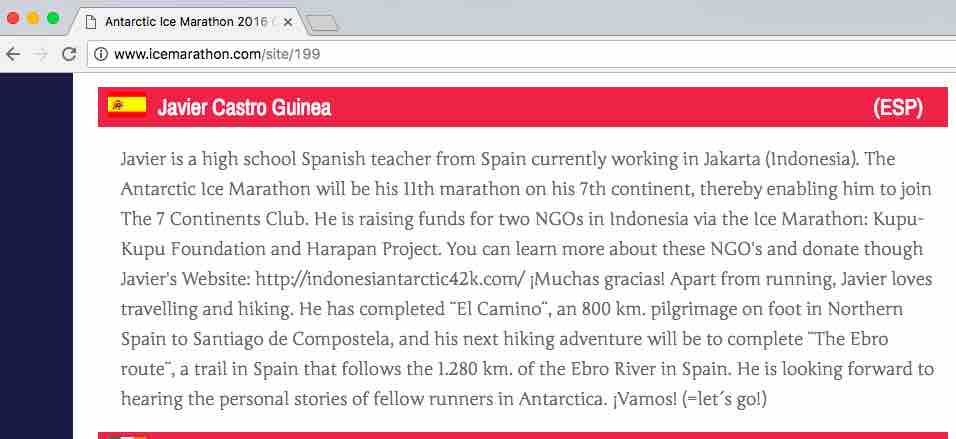 Dear friends!
In exactly one week –November 19- I will be flying to Chile, and from there to Antarctica to run the Antarctic Ice Marathon. It will be my 12th marathon and finishing it I would enter the ¨7 Continents Marathon Club¨, for runners who have covered that distance in each of the 7 continents. As of today 158 people.
In this Website you can find a short video (8´51¨) of the race last year, and some FAQ (race dates, transport, accommodation, food, first aid, communication, race course, temperature, clothing, participants, record, organizer and fun facts).
Here I respond some other questions:
1.- How could you follow the race?
Where we will run there is no Internet. But on Thursday November 24, the day of the race, the results will be updated on this Facebook page as soon as possible after runners cross the finish line.
https://www.facebook.com/AntarcticIceMarathon/
This is done by the organization calling to Ireland by satellite phone and passing that information.
2.- How many people will run? + Interesting facts about participants.
This year we will be 53 runners from 18 countries. Most of them running the full marathon, some of them running the half.
These are the numbers by nationalities:
| | | |
| --- | --- | --- |
| | Country | # of runners |
| 1 | Argentina | 1 |
| 2 | Belgium | 1 |
| 3 | Canada | 1 |
| 4 | Chile | 1 |
| 5 | Germany | 1 |
| 6 | Japan | 1 |
| 7 | Spain | 1 |
| 8 | Denmark | 2 |
| 9 | France | 2 |
| 10 | Netherlands | 2 |
| 11 | New Zealand | 2 |
| 12 | Poland | 2 |
| 13 | Ireland | 3 |
| 14 | South Africa | 4 |
| 15 | China | 5 |
| 16 | Great Britain | 6 |
| 17 | Australia | 7 |
| 18 | USA | 11 |
The profiles of the runners are very interesting and it will be awesome to share some days with all of them:
- For one of them it will be the first marathon, for another one the third. There are others that have run a lot (one 200 marathons, other 120, other 83…)
- Some of them are fast. This year at the starting line there will be an Irish guy with a personal best of 2h17´ in marathon last year, which was inside the qualifying standard for the Rio Olympics. He has won the Irish 10,000 m. track championships on two occasions. Also the meteorologist of the camp, a guy from Belgium, will be at the starting line with this curriculum: two times winner of the Antarctic Ice Marathon (2007, 2014) and two times winner of the Antarctic 100K (2008, 2012).
- ¨I am too old for running¨. If you think that think about this: at the starting line there will be a 64 years old runner, two 65 years old runners and one how is 68. I want to be them in a couple of decades!
- Other interesting achievements: One runner has run a marathon every month since October 2010, having run in each of the 50 states in USA. Another one is the only person to have completed all ten Standard Chartered Bank Worldwide marathons (Hong Kong-Taipei-Singapore-Kuala Lumpur-Bangkok-Mumbai-Dubai-Nairobi-Jersey-Stanley). A third one run the 6 marathon majors in one year (Tokyo, London, Boston, Berlin, Chicago and New York).
- As I am raising funds for two ONGs in Indonesia, other runners are also doing so for Missionary Trips in East Africa, Support for seriously ill children in Poland or for Los Cachorros, a foundation committed to street children in Peru. One runner raises funds and awareness for a foundation that helps families affected by a terminal disease called Metachromatic Leukodystrophy (MLD), after her young nice was diagnosed with that rare and fatal lysosomal disease.
3.- What are my travel plans?
It will be a looong flight to Chile.
I will leave Jakarta on Saturday November 19 at 00:10, arriving to Santiago (Chile) on Sunday November 20 at 01:20. That will be 35 hours:
- Jakarta (00:10) – Doha (04:45) = 8h35´
- Stop over = 3h35´
- Doha (08:10) – Sao Paulo (17:50) = 14h40´
- Stop over = 4h04´
- Sao Paulo (17:50) – Santiago (01:20 + 1) = 4h25´.
Then I need to take a flight from Santiago to Punta Arenas, another 3h25´.
- Santiago de Chile (16:20) – Punta Arenas (19:45)
It could have been a little bit shorter through Australia, but the flight ticket was way more expensive.
4.- You are in Punta Arenas. And now?
Monday November 21
I am renting items for Antarctic conditions (outer wind pants, down jacket and boots). That equipment is not for running, is to wear them while we are in Antarctica but not running. I will pass by the offices of the logistic company to get these items.
That day the race director will visit our rooms in the hotel for gear checks, to make sure that we have the right equipment for running and for being in Antarctica. If we are missing something we would have some time to buy it in Punta Arenas. I have been in contact with Richard Donovan, the director, but this will be the first time that I meet him.
8 p.m. – Briefing / Meeting: We will be advised about aspects fo the trip, distribution of race numbers, etc.
Tuesday November 22
The gear/equipment we need for Antarctica will be weighed and collected at 9 a.m.
17:00 - Logistics Company Briefing: At this meeting we will be advised on the flight status. In other words, we will be told whether the plane is leaving on schedule, what the weather conditions are like, and so on.
Wednesday November 23
Flight to marathon location at Union Glacier, Antarctica. Union Glacier is only accessible by plane. We will fly 4 hours and a quarter from Punta Arenas on a Russian Ilyushin-76 that will land on an ice runway.
Thursday November 24 – ANTARCTIC ICE MARATHON
Day scheduled for the race, when meteorology allows.
Friday November 25
Recovery day in Antarctica.
Saturday November 26.
Return Flight to Punta Arenas, Chile.
And from there, we start our way back to our homecountries.
However, directions from the director of the race state that because of delays to get to Antarctica due to the weather, it is advisable not to book a return ticket from Chile to our countries before November 30.
¨Please note once again that delays are normal in Antarctica. The Antarctic Ice Marathon has been generally on schedule but this has been largely due to good luck with weather: there was a 5-day delay returning from Antarctica in 2013. The pilots do not take risks and a plane will not take off because somebody has time pressures. You should travel expecting delays. It's a trip of a lifetime and it will be worth it.¨
5.- Fundraising project.
The NGOs that I am raising funds for are doing a fantastic job.
If you are more of the audiovisual type, in these videos you can learn about what they do:
Kupu-Kupu Foundation: Video ¨Strenght from within¨ (6´42¨)
https://www.youtube.com/watch?v=MpTHBerW1nA
Harapan Project: Video ¨Carlos, messenger of hope¨ (57´05¨)
https://www.youtube.com/watch?v=y4-cFHGI2OY
Please consider donating. Info about how you could donate here.
Thanks for your support!