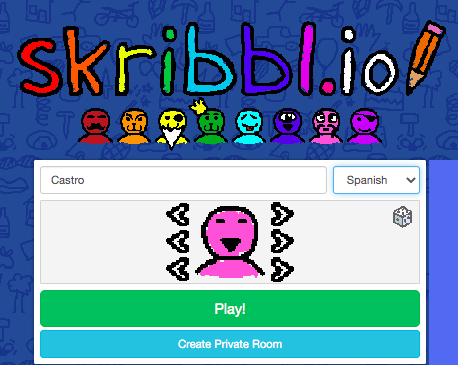 Hoy en una de mis clases de español hemos estado jugando un juego muy divertido para practicar un poco de vocabulario. Comparto aquí el correo que he enviado a mis colegas explicándoles cómo hemos hecho la actividad. Un buen recurso para estos días de fin de curso.
Subject: Skribbl in the target language
Hi!
We survived the comments week and the last week should be cruising!
In Advisory we have played Skribbl a few times and students like it a lot.
I wanted to try it in the Spanish class and it has been fun, students like it and it is perfect for these last days of school.
This is how I did it (long instructions, sorry, but it is pretty intuitive).
This is the document that I shared with students (original + translated into English)
1.- I give students the 30 words that we will play with. We reviewed them at the beginning of the class and I also prepared a Quizlet.
2.- Let´s imagine a class with 16 students. There can only be 8 students playing in one room in Skribbl (because of the program), so it has to be a minimum of two ¨private rooms¨, as they are called in Skribbl. But I would go for 4 breakout rooms of 4 students, as they have more chances to draw and it is more fun for them.
3.- In Zoom I ¨Create 4 breakout rooms¨. And now I have three options:
-Assign automatically
-Assign manually
-Let´s participants choose room
4.- For the reason of saving time I click on ¨assign automatically¨ + ¨create¨ and now I can see what students would be assigned to each of the 4 breakout rooms (I don't ¨Open all rooms¨ yet). For instance I can see:
Room 1: Student 1, student 2, student 3 and student 4
Room 2: Student 5, student 6, student 7 and student 8
Room 3: student 9, student 10, student 11 and student 12
Room 4: student 13, student 14, student 15 and student 16
5.- All the students are still in the main room in Zoom.
I announce the groups (as above).
And I ask one student in each group (for instance student 1, student 5, student 9 and student 13) to create each of the four ¨private rooms¨.
The instructions on how to do it are in the document above and we go together over them.
6.- When you create the list of vocabulary that students will play with, you will need to put all the words together separated by commas, so students 1, 5, 9 and 13 can copy and paste those in the ¨private rooms¨ that they are creating, in order to play just with those words. In this case the list looks like this (I eliminate the accent marks in the words to avoid problems). I pasted in the Zoom chat so students 1, 5, 9 and 13 can copy and paste it.
navidad, palindromo, avion, estacion, cuarentena, telefono, bicicleta, pasaporte, mayo, horario, libertad, escuela, universidad, estadio, cafeteria, equipaje, billete, contaminacion, lluvia, helicoptero, guitarra, botella, ensalada, ajedrez, surfista, fantasma, tijeras, vacuna, semaforo, ornitorrinco
7.- Once the 4 students have created their 4 ¨private rooms¨ for their group, I ask them to put the links in the general chat. That way, as a teacher, I can enter later in all of them (but I will need to leave one to enter the other I think, I am not sure if you can play in several rooms at the same time).
8.- I tell students that I am going to ¨Open All Rooms¨, and I tell the leaders (student 1, 5, 9 and 13) that when they go to their breakout rooms the first thing they need to do is to paste in the chat again their links to their private rooms in Skribbl, so nobody gets lost.
9.- They play, they practice the vocabulary and it is fun.
Have a great weekend!