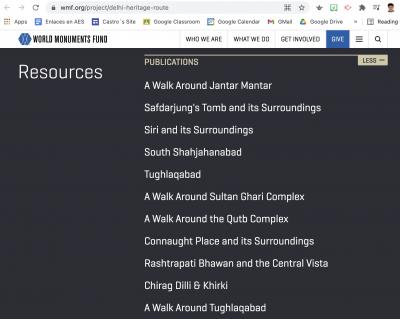 I just shared this message with my colleagues:
Hi,
I would like to share with you this Delhi Heritage Route Website that I found very useful.
If you scroll down to ¨Resources – Publications¨ and click on ¨More +¨ you will find a list of historical places to visit in Delhi. Clicking on each of them you have access to a PDF with maps of the places and explanations. For instance yesterday I visited Ferozabad, the 5th city of Delhi, following this 2-pages document found there (more detailed information was also available on that site).
In some of those places you need to pay an entry fee. If you know what day you are going probably the most convenient way of doing it is online from home, using this Website asi.payumoney.com/ and presenting the ticket on your phone. Otherwise at the entry:
-you will need to scan a QR code that will take you to that Website
or
-you can pay your ticket in cash at the entry, but in some places that has been challenging as there were nobody at the ticket booth.
There are different prices for Indian and for Foreigners, in the case of Ferozabad the difference is 20 rupias vs. 250 rupias. I understand that foreigners with a PAN card are entitled to pay 20 rupias, as Indian citizens.
Hope some of you find it useful. Have a great Sunday,
Castro