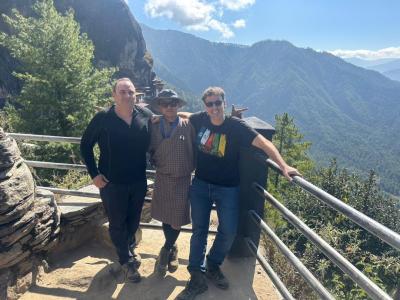 (This is a translation of the original blog entry in Spanish, using ChatGPT – I didn´t take the time to edit anything)
PHOTOS:
Bhutan 1/8 - Paro - October 21, 22, 27, 28, 29, 2023. (119 photos).
Bhutan 2/8 - Bumthang - October 22-25, 2023. (180 photos).
Bhutan 3/8 - Jakar Festival (Bumthang) - October 23, 2023. (132 photos).
Bhutan 4/8 - Tang Valley - October 24, 2023. (176 photos).
Bhutan 5/8 - Bhumthang - Trongsa - Gangtey - October 25-26, 2023. (132 photos).
Bhutan 6/8 - Gangtey - Punakha - October 26, 2023. (148 photos).
Bhutan 7/8 - Punakha - Thimphu - October 27, 2023. (136 photos).
Bhutan 8/8 - Paro - Tiger's Nest - October 28, 2023. (71 photos).
VIDEOS:
Bhutan 1/15 - Mount Everest from the air. Flight Kathmandu (Nepal) - Paro (Bhutan) - October 21, 2023. (31").
Bhutan 2/15 - Landing in Paro and Paro-Bumthang flight - October 21-22, 2023. (36").
Bhutan 3/15 - Raising a glass at Swiss Guest House - Bumthang, October 22, 2023. (13").
Bhutan 4/15 - Lhodrak Karchu Monastery - Bumthang, October 22, 2023. (1'35").
Bhutan 5/15 - Jakar Tshechu Festival - Jakar Dzong - Bumthang, October 23, 2023. (8'34").
Bhutan 6/15 - Ogyen Chholing Palace - Tang Valley, October 24, 2023. (3'40").
Bhutan 7/15 - Ta Rimochen Lhakhang - Tang Valley, October 24, 2023. (3'55").
Bhutan 8/15 - Marijuana in Bumthang Valley, October 22-24, 2023. (3'55").
Bhutan 9/15 - Chendedji Chorten - Central Bhutan, October 25, 2023. (4'15").
Bhutan 10/15 - Crossing bridges in Punakha, October 26, 2023. (2'55").
Bhutan 11/15 - Changangkha Tsechu, Thimphu, October 27, 2023. (4'26").
Bhutan 12/15 - Taktsang Palphug Monastery - Tiger's Nest, October 28, 2023. (11'11").
Bhutan 13/15 - Dotsho - Traditional Bhutanese hot stone bath, October 29, 2023. (8'25").
Bhutan 14/15 - Potpourri, October 21-29, 2023. (15'20").
Bhutan 15/15 - Flights - Paro Airport October 28 + Flight Paro - Kathmandu - October 29, 2023. (4'26").
Bhutan - Video Relive - From Bumthang to Paro - October 25-27, 2023. (2'53").
Bhutan - Video Relive - Taktsang Monastery, Tiger's Nest - October 28, 2023. (2'36").
LOGISTICS:
Flights:
Saturday, October 21, 2023.
Bhutan Airlines B3774: Delhi (10:55) - Paro (14:35).
Sunday, October 22, 2023 – Domestic flight in Bhutan.
Druk Air KB010: Paro (09:55) - Jakar (10:30).
Sunday, October 29, 2023.
Bhutan Airlines B3773: Paro (07:05) - Delhi (09:55).
Things in Bhutan must have changed.
I had read that when buying a flight with Bhutan Airlines or Druk Air, they required a visa. That was not the case.
Our flights had layovers in Kathmandu (no need to disembark).
The flights to Paro from both Delhi and Kathmandu fly over the Himalayas, and you can see many eight-thousanders (including Everest). However:
- On the flight to Paro, you should be seated on the left side (seat A).
- On the flight from Paro to Kathmandu or Delhi, you should be seated on the right side (seat F).
Check-in online in advance or arrive at the airport early!
I also recommend checking this website to identify the eight-thousanders you see (the captain probably announces them during the flight).
Regarding flights, while in India, I explored other options, such as flying to Bagdogra and then traveling to the land border with Bhutan. However, I read that the Phuentsholing border post in Bhutan usually did not open on weekends, so the option of entering by land was ruled out, as we were traveling on a weekend (it may open, but the information on the internet was not clear).
Visa:
This is the official website to apply for the visa: https://visit.doi.gov.bt/
This is a Bhutanese government website that provides information on many things: https://bhutan.travel/. It is a government website, so it is up to date.
Previously, to travel to Bhutan, you had to pay $250 per day, and everything was included (accommodation, transportation, meals). Now, you have to pay:
- The visa, which costs $40.
- The sustainable development fee = $100/night.
- You need to contact a travel agency to organize hotels, itineraries, etc.
As far as I understand, you cannot travel independently.
Indian citizens have a special agreement, but I am not sure of the details.
I applied for the visa directly on the website, paying $40 + $800 for the sustainable development fee online. I applied for it on Monday, September 18, and on Thursday, September 21, when I checked the website, it was approved. When applying for the visa, you need to upload:
- A digital photo.
- A digital copy of your passport.
- A digital copy of travel insurance. I uploaded the one from school, which has worldwide coverage.
They do not require you to enter flights or purchase them in advance.
Applying for the visa online was very simple for me. However, my colleague Fons had trouble applying for the visa online. Some people encounter issues with online payments on that website. If you do not want to apply for the visa online, as you will have to contact a Bhutanese travel agency anyway, you can ask them to handle it directly (it is a service they provide).
Travel Agency:
You will have to contact
a travel agency in Bhutan because independent travel is not allowed. There are many options. I looked into a few of them (Truly Bhutan, Marvellous Bhutan Travel, Book my Tour Bhutan, Bhutan Travel Bureau, Bhutan Tour, etc.), and we ultimately chose Yak Holidays Int'l.
It has good references on the internet, and after having organized our trip, I recommend it 100%. If I were to return to Bhutan, I would contact them again. Our contact person, Mr. Sithar, always responded to emails on the same day, usually within an hour. He answered all the questions we had before traveling and proved to be very efficient. You can see his face here.
My colleague Fons asked if it was possible to have a guide who speaks Spanish. They responded that it would cost an extra $100/day, so we opted for an English-speaking guide.
Currency:
Currency exchange was straightforward for me. I live in India, where the currency is the rupee, and it has a 1:1 exchange rate with the local currency of Bhutan. I brought rupees, exchanged them with the guides for the local currency, and ended up paying for certain things in Indian rupees as they are also accepted.
Itinerary:
Looking at the dates, this Facebook page and the Lonely Planet coincided with a couple of festivals:
- The Jakar festival.
- The Thimphu festival.
- The Royal Highland Festival.
I was most interested in the third one, the annual festival in the mountains. The king was also attending. However, it was the most difficult to access, and it was held at an altitude of 3,800 meters, on October 23 and 24, which could be challenging. Maybe another time, but we opted for the Jakar festival in central Bhutan.
Here is the summarized itinerary:
Day 1 - October 21: Arrival in Paro (2,200m).
Night at the Silver Cloud Hotel.
Day 2 - October 22: Paro - Bumthang Flight (2,600m)
Night at Swiss Guest House.
Day 3 - October 23: Jakar Festival in Bumthang.
Night at Swiss Guest House.
Day 4 - October 24: Excursion to Ogyen Choling Palace in the Tang Valley.
Night at Swiss Guest House.
Day 5 - October 25: Road trip Bumthang - Trongsa - Gangtey (3,000m).
186km, 5 hours, night at Phuentsho Yangkil Resort.
Day 6 - October 26: Road trip Gangtey - Punakha (1,242m).
75km, 2 hours, night at Hotel Sonamgang.
Day 7 - October 27: Road trip Punakha - Paro (2,334m).
3 hours, night at Silver Cloud Hotel.
Day 8 - October 28: Paro - Tiger's Nest Monastery.
Night at Silver Cloud Hotel.
Day 9 - October 29: Paro to Delhi Flight.
Places We Visited:
In Paro:
- Taktsang Palphug Monastery, the iconic Tiger's Nest. Since I had a knee issue, I partly rode a horse.
- Dotsho, a traditional Bhutanese hot stone bath. We had it at Paro Penlop Dawa Penjor Heritage Farmhouse, and we highly recommend the place.
In Bumthang:
- Jakar Fortress, where the festival was held.
- Lhodrak Karchu Monastery, next to our hotel (Swiss Guest House).
- The Temple of the Three Jewels (Kenchogsum Lhakang, the one with chains).
- Tamshing Lhakhang Monastery.
- Dozam Nature Park. We made a stop to see people in canoes.
- We visited a rural area where our guide was building a house. A grandmother brought out a bottle of homemade ara, and we ended up a bit cheerful.
- Kharsa Mill.
- Bumthang Brewery (Red Panda Weiss Beer) and the adjacent apple juice factory. We were curious, and they invited us in, offering freshly made hot apple juice. Very nice!
In the Tang Valley:
- Ogyen Chholing Palace and Museum.
- Ta Rimochen Lhakhang Monastery, where a festival was taking place.
- Membartsho (Burning Lake). It is a river with a legend that a man, to prove his extraordinariness, submerged with a lit candle and emerged from the water with it still burning. Nearby, there was a Nepali-style stupa (with painted eyes).
Bumthang-Trongsa-Gangtey Route:
- Kiki La Pass.
- In Thogme Tshongkhang, we stopped at a workshop where they made garments with yak wool and other handicrafts. They explained the process, and Fons bought a mandala.
- Yotong La Pass (3,425m).
- Trongsa Fortress Monastery (Trongsa Dzong) and its watchtower, which is now a museum.
- Chendebji Stupa. We coincidentally encountered a group of young monks playing dungchens, those long metal trumpets.
- At the hotel where we stayed that night, we talked to a Finnish woman who was traveling alone and now works at her embassy in Nepal. She spoke good Spanish and told us that she had visited all Spanish-speaking countries except Equatorial Guinea. How about that?
Gangtey-Punakha Route:
- Black-necked Crane Visitor Center. It is a large migratory bird, threatened, that spends time in Bhutan in a wetland here.
- Punakha Fortress, Punakha Dzong.
- Punakha Suspension Bridge. The websites say it's 180 meters long, but our guide measured it at 200 meters.
Punakha-Thimphu-Paro Route:
- Dochu La Pass (3,140m), with an impressive collection of 108 chortens (Tibetan name for Buddhist stupas) built in 2005 as an act of atonement for deceased Bhutanese who fought against Assamese militants (from India) who crossed the border into Bhutan. From there, we had the opportunity to see Masagang, a 7,194m peak (there were a couple of higher ones hidden by the clouds).
In Thimphu, the capital, we visited:
- The National Football Stadium.
- Next to it, people were playing games of chance, and we tried our luck once.
- Weekend Market (even though it was Friday).
- Adjacent craft market.
- The takin reserve (in Motithang). The takin (Budorcas taxicolor) is a national symbol of Bhutan and a very curious animal, quite cool.
- Changangkha Lhakhang Monastery. We were fortunate that a mask festival was taking place. It was delightful to see people in traditional attire enjoying themselves.
- Buddha Dordenma Statue, 51m tall.
----
It has been an incredible journey; we've had a blast. The people are amazing, and indeed, the country is very, very special, well worth it. Special thanks to Mr. Sithar of Yak Holidays Int'l for preparing a fantastic itinerary, and, of course, to our guide Mr. Thukten and our driver Dawa, who, with their kindness and dedication, exceeded all our expectations during our stay in Bhutan.
I'd like to write a detailed diary about everything we've seen and experienced, but it would be pages and pages, so here are some quick and brief notes that come to mind:
1. Archery is the traditional sport. You can see it in many places. Some people practice it with traditional bows, while others use modern ones. If they hit the bullseye, they perform a ritual dance, which is very interesting.
2. In Bhutan, you'll see phalluses painted on houses and carved wooden phallus sculptures. They are omnipresent. For centuries, they have considered them a symbol of protection and endowed with the special power of fertility. Here, they tell the reason and the story in detail.
3. In post offices, you can send them your photo by email, and they'll print twelve stamps with your face, which are valid for postage. So we couldn't resist and sent some postcards with our faces.
4. I read before going to Bhutan that the beer is good, diverse, and cheap. And yes, we had the chance to confirm that. I also brought back a couple of bottles of whiskey that shouldn't be bad. They cost 10 euros and will be a gift.
5. Most people wear traditional attire, and they have a true devotion to their king, wearing badges with his face.
6. Regarding traditional attire, bathroom signs often feature silhouettes of people (men and women) dressed in that manner.
7. The landing at Paro airport is spectacular, as it is situated between mountains. The building is beautiful, and the city of Paro seems more like a village hosting an international airport. It is surrounded by rice fields. We were welcomed with white scarves around our necks.
8. The markets are extremely clean. We were impressed with the one in the capital, Thimphu. Incredible!
9. In the Bumthang Valley and the Tang Valley, wild marijuana plants grow everywhere. Suddenly, while walking or driving, you start to smell marijuana. And during the season we went, the plants were full of buds, already mature.
10. Red peppers are left to dry on rooftops, another constant sight in Bhutan.
11. There are also many cool suspension bridges.
12. We did notice the difference in the number of tourists between central Bhutan and the west. Many fewer tourists reach the central area, Bumthang.
13. The hotels we stayed in were fantastic, and most meals were buffet-style, so we brought back a few extra pounds.
I'll stop here; I can't ramble on any longer. An absolutely amazing trip, and I would love to return someday! Oh, and a special mention to my travel companion, Fons, with whom it's a pleasure to travel, and we've had some good laughs.