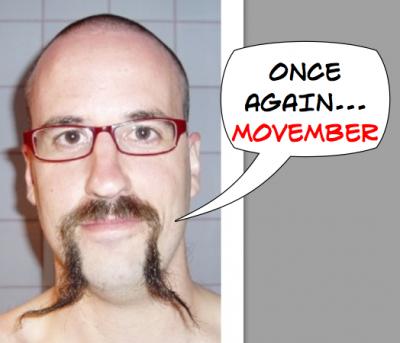 As you may know October is designated as Breast Cancer Awareness Month. It is an annual international health campaign organized to increase awareness of the disease and to raise funds for research into its cause, prevention, diagnosis, treatment and cure. The earlier the cancer is detected, the bigger the possibilities of winning the fight against it. That is why it is so important to detect it early, and all women should be aware of the methods of early detection.
MOVEMBER
As October is pink to fight against breast cancer, November is MOvember to raise awareness about men health problems, especially prostate cancer. Statistics say that in Spain, on average, one man dies every 90 minutes because of prostate cancer (5.900 men/year die in Spain because of this disease). In Spain 18.870 men are diagnosed with prostate cancer per year (that is more than 50/day). In the United States:
- 1 in 6 men will be diagnosed with prostate cancer in their lifetime.
- This year 242,000 new cases of prostate cancer will be diagnosed.
- This year 8,290 men will be diagnosed with testicular cancer.
Why is this campaign called MOvember?
It is a combination of Moustache + November.
The men that decide to join this world campaign of awareness and fund raising should follow some rules that basically are:
- Shave on Movember 1st
- Grow a moustache during the month of Movember. Here there are several suggestions. I will go for ¨The Trucker¨.
FUND RAISING
One more year -2010, 2011- I am participating with colleagues from my school in the MOvember campaign, trying to raise awareness about prostate cancer and to raise funds.
In this link I am uploading the evolution of my moustache daily:
http://us.movember.com/mospace/3846257
(Click on ¨view gallery¨)
If you have read until here I have fulfill my first goal: to raise awareness.
If now you want to donate some $$$ for the cause you can do it in this Website:
http://us.movember.com/mospace/3846257
You have two options:
- Donate to me (Javier Castro)
- Donate to my team (Furry Eagles)
You can use your credit card or PayPal.
Thank you very much for collaborating in this campaign! :-)
Javier Castro.