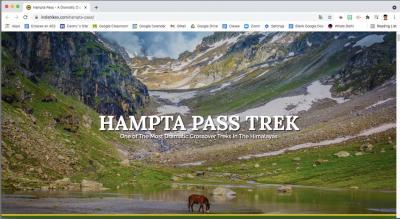 Video Manali (2,050m) – Jobra (2,805m), India – 25 julio 2021.
Video Balu Ka Ghera (3,782) to Shea Goru (3,920) via Hampta Pass (4,287), India – 28 julio 2021.
Video Chandra Taal (4,250m) – Chhatru Camp (3,322m), India – 29 julio 2021.
Video Chhatru Camp (3,322m) – Manali (2,050m), India – 30 julio 2021.
166 fotos – Autobús de Kullu a Chandigarh.
Video Autobús de Kullu a Chandigarh, India - 31 julio 2021.
El plan para la última semana de vacaciones era hacer un trekking por los Himalayas indios. En enero hice el de Sandakphu con la compañía India Hikes y me encantó, así que repetía con la misma organización, distinto trekking. Esta vez sería el de Hampta Pass que así lo describe la guía Lonely Planet:
¨Caminata al Puerto de Hamta
Se accede fácil desde Manali y es una ruta preciosa y variada, con acampada. Cruza desde el valle de Kullu hasta Chatru por la carretera de Keylong-Spiti en el valle del Chandra en Lahaul. Se aconseja llevar calzado para cruzar el arroyo (el agua llega por las rodillas) y tener en cuenta que se atraviesan dos glaciares (nada técnicos). Se sale de Jobri, donde se unen los arroyos Hamta y Jobri. Los dos primeros días son un ascenso combinado y fácil de unos 800m lo que ayuda a aclimatarse. Se sigue la subida y se pasa por el puerto de Hamta (4.270m) desde el campamento de Balu Ka Gera, lo que se hace largo, abrupto y agotador, pero con vistas sublimes de las cimas nevadas desde arriba. La mejor época es después del monzón (fin sep y oct). Suele haber nieve en el puerto hasta mayo¨.
Dice que la mejor fecha es después del monzón pero nosotros lo hemos hecho justo durante el monzón, así que nos ha tocado lluvia y nubes. Pero sarna con gusto no pica y ha sido una auténtica gozada, unas vistas increíbles y unos compañeros de trekking majísimos.
Este fue mi plan de viaje. El trekking era de 6 días, pero llegué a Manali un día antes y me fui un día después.
SÁBADO 24 DE JULIO
El aeropuerto más cercano a Manali es el aeropuerto de Kullu. Cojo un avión de Air India que sale de Delhi a las 06:15 am y llega a las 08:30. Manali se encuentra a unos 45 kilómetros de ese aeropuerto. Cojo un taxi con otro senderista que iba a hacer otro trek y compartimos las 1.800 rupias (20 euros) que cuesta el viaje.
En Manali me alojo cerca de Mall Road, en un hotel llamado Shandela Mall Road.
Visito un par de templos, que así los describe la guía Loney Planet:
¨Hadimba Mandir¨
Es un templo de madera y piedra muy venerado, construido en 1553, con un tejado estilo pagoda en tres niveles y un remate cónico. La entrada de madera tiene un rico tallado con figuras de dioses, animales y bailarines, y las paredes exteriores están decoradas con cornamentas y cuernos de cabras montesas. La ubicación, entre unos cedros deodaras altísimos unos 2km al noroeste del centro de Manali, sería mágina si no fuese por las horas de turistas, que buscan una serie de ¨atracciones¨ (fotos con yaks, una feria, un mercado de baratijas, etc.)
Pese a tanto ajetreo, el lugar es muy sagrado y acuden peregrinos de todo el país para honrar a Hadimba, la esposa domino del Pándava Bhimá en el Mahabharata. En el interior hay una gran piedra donde solían hacerse sacrificios de animales¨.
En el Old Manali (¨Viejo Manali¨) visito el templo de Manu Rishi que así lo describe la guía:


¨El templo se levantó sobre el legendario lugar de aterrizaje de un Manu portador del arco, creador de la civilización, tras una gran inundación, en un relato muy similar al de la bíblica Arca de Noé. El propio Manu Rishi ¨vive¨ con su hermana Hadimba en el Mandhar, ahora una casa-torre a rayas muy bien conservada que quieren restaurar. Hay nueve máscaras de plata con bigotes dorados que representan a dioses menores. Las sacan con palaquines entre mucha fanfarria musical durante las fiestas o para bendecir una casa o negocio nuevos¨.
DOMINGO 25 DE JULIO
Los siguientes 6 días son de trekking. Nos reunimos en un hotel llamado Keylinga Inn, en Prini (un barrio fuera de Manali) a las 11:30 am. Comemos y en 4x4 tomamos las 42 revueltas del puerto que nos acerca al primer campamento. Pasamos de los 2.050m de Manali a los 2.858 de Jobra, lugar donde acampamos la primera noche. Pasaríamos 5 noches en tienda de campaña, compartiendo tienda tres personas.
LUNES 26 DE JULIO
Trek de Jobra (2.858m) a Jwara (3.411m)
MARTES 27 DE JULIO
Trek de Jwara (3.411m) a Balu ka Ghera (3.782m)
MIÉRCOLES 28 DE JULIO
Trek de Balu ka Ghera (3.782m) a Shea Goru (3.920m) pasando por el puerto de Hampta (4.287m)
JUEVES 29 DE JULIO
Trek de Shea Goru (3.920m) a Chhatru (3.321m).
Una vez allá tomamos unos 4x4 y visitamos el lago Chandra Taal.
VIERNES 30 DE JULIO
Regreso de Chhatru (3.321m) a Manali (2.050m)
Terminado el trekking me alojo esa noche en Prini, en un hotel llamado Summit Chandertal Regency. Enfrente hay un café muy bonito (Fat Plate Café) regentado por una señora muy agradable donde me pego un homenaje de cerveza y fish and chips.
SÁBADO 31 DE JULIO
El plan para ese domingo es volver a Delhi. Mi vuelo con Air India está programado para las 08:50 am. Facturo la mochila y después de un rato me comunican que hay retraso. Más tarde me informan de que el vuelo se cancela por mal tiempo. Solo hay un vuelo al día desde Kullu a Delhi así que toca buscar un plan B, que consiste en 9 horas de autobús de Kullu a Chandigarh más otras 6 en otro autobús de Chandigarh a Delhi.
Una vez más una experiencia fantástica. Esta compañía, India Hikes, cuida de todos los detalles y no hay duda de que repetiré más treks con ellos en la futuro, ¡os la recomiendo!
Copio y pego en inglés el itinerario que seguimos de la página de India Hikes:
Day 1: Reach Jobra
The base camp for the Hampta Pass trek is Jobra. The picturesque drive from Manali, along with 42 hairpin turns, has panoramic views of Kullu valley. The Rani Nallah, which you will trek alongside till it disappears under the snow of Hampta Pass, starts accompanying you from here. From the road head at Jobra, the campsite is a 30-minute trek through a mixed forest of pine, bright green maple trees and luminescent silver birch.
Altitude: 9,379 ft (2,859 m)
Time taken: 2 hours drive from Manali to Jobra; 30-minute trek to Jobra campsite. Reach Prini (Keylinga Inn) by 11.30 am. The cab fare is Rs.2,500 per vehicle. This is not included in the trek fee. It is to be shared by trekkers and paid directly to the driver.
Cross the road where you get off from the vehicle and take the small path into the forest. The forest is mostly Pine with an occasional Maple tree with its new lush green leaves - a pleasant change in the vegetation. It's an easy slope and after 20 minutes into the forest, you come to a bend with a huge rock which overlooks a meadow strewn with small rocks.
Camp in the meadows for the night to acclimatise better.
Day 2: Jobra to Jwara
Altitude: 9,379 ft (2,859 m) to 11,194 ft (3,412 m)
Time taken: 5 hours, 5 km
Trek gradient: Easy-moderate. Easy walk to Chika for about an hour followed by 2 hours of ascent through a boulder section. Descent for 1-1.5 hours easing off into a level walk.
Water sources: Carry sufficient water from Jobra. You can refill your water bottles from the river along the trail.
The meadow near Jobra has the Rani Nallah or Rani river flowing in between and on either side, you will see hills with rock faces. Some cows and sheep graze in the meadow which is lined with Maple and Pine trees. Early in the season one may find some snow by the side of the river.
You can traverse on the meadow or climb up the left hill. The climb makes the path slightly shorter. The river flows right in the middle and water is no issue. You can take a break here - Chika.
Jwara is to the right of Chikha, and can be identified by a couple of waterfalls in the distance. Head right but stay on the left bank of the river throughout. The initial climb is mainly through stones and boulders. The going is never too difficult. The right bank of the river is laced with dwarf Rhododendrons in the lower and middle region of the mountain and Birch trees grow at the upper end.
Look back and you will see the Dhauladhar range with its snow-clad peaks. It makes a pretty picture. You will find a waterfall on to your left. Relax and replenish your water supplies at this spot.
After the waterfall, you move towards your right, heading towards the river, which has a lot of boulders around it. Take off your shoes if you wish and jump across the rocks on the Rani Nallah. The water is icy cold as one would expect.
You are now about halfway through your trek as you enter a walled valley. On one side of the valley are the rock faces and on the other end is the river below. Once you cross the river, you are at Jwara where nature is at her dramatic best.
Day 3: Trek from Jwara to Balu Ka Ghera
Altitude: 11,194 ft (3,412 m) to 12,411 ft (3,783 m)
Time taken: 4-5 hours, 4.5 km
Trek gradient: Moderate. Short meadow walk followed by boulder section for a couple of hours, leading to a trail on loose rocks all the way. Very gradual incline through the day.
Water sources: Carry sufficient water. You will find streams along the trail to refill your water bottles.
The river has snow flows melting and feeding it while numerous sheep and mules feed on the green grass. In front are snow-clad mountains beyond which lies the Hampta Pass.
Walk along the Rani river heading into a rectangular valley. On your way, you will find a variety of tiny flowers - purple, yellow, pink etc. The trees are now left behind. You won't find them anymore for quite some time. It takes about half an hour to cross the valley.
¨There is a section on this day that goes through a flattish terrain where you are surrounded by flowers. You see the long, pink distorts, marigolds, blue poppies. The Rani Nallah is flowing on the side. The ascent is gradual, so you get time to walk at leisure, introspect as you go through this section.¨
Aditya Bodke
Trek Leader
After you come out of Jwara, you need to walk further along. The terrain flattens as you reach Chota Balu ka Ghera where you can rest for a bit and have a quick snack. Then continue further along the river, crossing small snow flows and jumping across rocks.
Towards the end, the rocks are quite far apart and jumping across gets tricky. Soon after, you will reach the destination for the day – Balu Ka Ghera or the bed of sand. The ground is formed mainly by the sand and dust brought down by the river.
It is level ground and behind you are the mountains you will traverse the next day to cross the Hampta Pass. Pitch your tent and enjoy a beautiful sunset behind the Hanuman Tibba peak. You are now close to 12,500 ft above sea level.
Day 4: Balu Ka Ghera to Shea Goru via Hampta Pass
Altitude: 12,411 ft (3,921 m) to 12,864 ft (3,735 m) via 14,065 ft (4,287 m)
Time taken: 9 hours, 5 km
Trek gradient: Moderate. An hour of gradual ascent after which the trail becomes steep uphill till the pass, interspersed with short descents. 2 hours of steep descent from the pass, easing off into a flat walk.
Water sources: None. Carry 2 litres of water from Balu ka Ghera. Late season streams likely once the snow melts.
Today's trek can be broken into two stages - the climb to Hampta Pass which is moderately steep followed by a steep descent to Shea Goru. You will want to take a small break at the top of the pass to make it your target to reach the pass by lunchtime, have lunch there and then start the descent.
You begin your day by heading towards the mountains from Balu Ka Ghera. You may get a pleasant surprise with lots of tiny pink and yellow flowers growing by the side of the river. Move along the river for an hour after which you will be above it. At some points, the trail may fade out so be careful not to get lost. Stay with your team.
After an hour of a gentle gradient in a rock fall prone area, the climb picks up. This is the first serious incline you will encounter. Half an hour into the climb, you will reach the first plateau. Here you get to see the Deo Tibba peak right in front of you.
If you are here during early summer, there is a good chance that this entire section is filled with snow. At other times, you may get only some patches of snow.
Take a breath, wait for your team to catch up and begin the next ascent. This is another inclined part which has two stages to it and finally ends at the ridge. The climb will take you 20-30 minutes. From the top of the ridge, you will see another parallel one, which is your next destination. Hampta Pass is a bend away from the top of the second ridge.
Before descending down to the side of the second ridge, continue walking on the first ridge for a small distance to get a 360-degree view of the intriguing mountain peaks like Peak 5260 surrounding you. This is a good spot for a panoramic shot.
After descending down and 15 minutes of going by the side, you begin the vertical climb which gets over in 20 minutes. You may be panting at the end of it but you are almost there at 14,000 ft, atop the Hampta Pass.
The descent is slightly trickier than the ascent. It can vary slightly depending on the snow condition too. Sliding down may be an option if there is snow. From the pass, take a turn towards the right. You can see the Lahaul side of the pass below.
Go down in a zig-zag route and then stick to the right flank of the mountain. You will have to walk over slippery soil and stones too. In half an hour the first downhill run is done.
A u-turn brings you right below the pass. From here it is a straight downhill trek on snow; you could also follow the zig-zag path down until you hit the valley below. In an hour and a half, you will be at the base of the valley. Tall snow-clad mountains surround you from three sides and the open side leads you to Shea Goru.
Shea Goru is an almost level walk from here. It should be an easy walk though some may find it tiring after the long day traversing the pass. You will find the river again, flowing to your right. Choose a nice camp site close to the river and retire happily for the day after crossing the Hampta Pass.
Day 5: Shea Goru to Chhatru; drive to Chandratal* and back to Chhatru
Altitude: 12,864 ft (3,735 m) to 10,898 ft (3,322 m) to 14,100 ft (4,298 m)
Time taken: 4 – 4.5 hours; 6 km
Trek gradient: Moderate. 2-2.5 hours of walking on moraine and loose rocks on gentle inclines, followed by a descent to Chhatru across a couple of glacial flows.
Water sources: Carry sufficient water from Shea Goru. You will find a few sources on the way to refill your water bottles.
* depending on the condition of the roads and weather
As you move closer to the road, the descent gets a little tricky. You will need to traverse by the edges of rocks and sometimes it might just be easier to get down into the river/glacier bed below to skip the rocky section and get back up.
There are also a couple of places with slippery soil. So you need to be nimble and hop down them to prevent yourself from sliding.
This section would take 2½ – 3 hours when you are out of the mountains. You are still at a height but you have the road right across and the Chandra river separating you from the road.
Two to three huge glacial flows come down from the mountains on the side to the Chandra river.
You will need to cross these streams to reach a camping spot which has water.
Choose a camping spot close to one of the numerous streams that join the river. Chhatru is a lovely camping site. You get lovely views of the different mountain ranges. The Chandra river flows in speed right below.
If the roads are clear and devoid of snow, a visit to Chandratal, the moon lake is a must when you are in Spiti. Chhatru is about 70 km away from Chandratal. You will take a vehicle to Chandratal from Chhatru.
The journey takes about 3 hours and the road is quite bumpy, so it is advised that you start well before 3:00 PM. Those who have motion sickness, don't forget to take Avomine tablets.
Please note that the road to Chandratal is extremely dusty and can lead to a problem if you are asthmatic.
If you have some energy to spare, walk up the hill next to Chandratal. From the top, apart from being able to identify the moon shape of the lake, you'll be able to see a second lake out in the distance surrounded with scenic peaks like the CB-13.
Since Chandratal is at an altitude of 14,100 ft there are good chances of being hit by Acute Mountain Sickness if you're not well hydrated. Head to the Safety section to find out more.
Remember, the excursion to Chandrataal and back (if accessible) is completely optional. But we do recommend to visit the lake if the weather & road condition permit.
In late summers, the road opens up to Chhatru and beyond. If you are early or late in the season, Chandratal may be ruled out and you may have to walk on the road to a place where the road has been cleared off its snow flows.
Please note that as a part of the Hampta Pass trek, you'll not be camping at Chandrataal. After a late afternoon-early evening visit to Chandratal, you'll come back to Chattru and camp there for the night before heading to Manali the next day
Day 6: Drive from Chhatru to Manali
After an early morning debriefing, bid the Spiti valley goodbye and head back to Manali. The journey from Chhatru to Manali passes through Rohtang Pass and can take up to 4 hours. The scenery all through the route is a treat in itself. Don't forget to ask our trek leaders to teach you some group games like Hand Uno and Lateral Situations, to play on the way back!