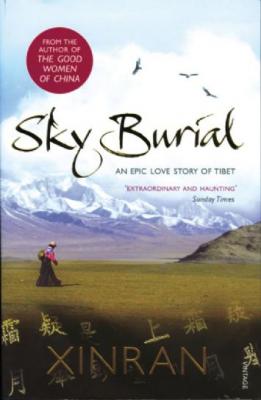 It had been a long time since I read a book in English. I used to do that in the U.S. to practice the language, but after realizing that my level was where it was, and that the effort that I had to do didn´t match the improvement in the target language, I decided to give up with that strategy and just enjoy reading in Spanish. I always NEED to read in the nights before I sleep. It is usually the only quiet time that I have during the day. But at that time I cannot ask much to my neurons, and probably that is another reason why I stop reading in English.
Well, before I travelled to Lijiang, a friend of mine placed a book in my mailbox. It is called ¨Sky Burial¨, by the author Xinran Xue. She is pretty famous in China and worldwide because of her book ¨The good women of China¨. To read a book I need to feel first the necessity of reading it. If you suggest me know a book about politics, space wars, love stories, blah blah blah probably I will refuse your invitation, at this time. But this was about Tibet, I am in China and I was travelling to the neighbor province. And the book is just great. For you to understand how great it is I just have to mention that I finished it on a plane, from the beginning to the end –of the flight and of the book- J
It is a real story. This journalist met a Chinese lady who said that she had been in Tibet more that 30 years. She moved to Tibet to discover the causes of the dead of her husband. And then, the adventure begins.
It is a great love story –I was not expecting that-, but it is also a great source of information about Tibet, the customs, the political situation in the last 50 years, the nomadic way of life still going on there… I TOTALLY RECOMMEND IT!