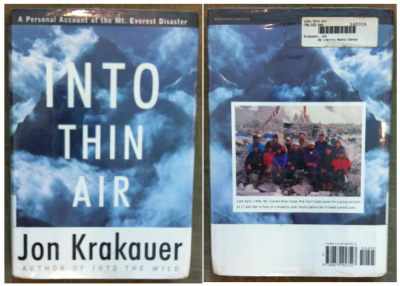 After I finished ¨This Earth of Mankind¨ by the Indonesian author Pramoedya Ananta Toer I tried to read the English classic ¨Lord Jim¨, by Joseph Conrad. My friend Iriarte recommended it to me so I downloaded in my Kindle, but after completing 14% of the novel (now with these electronic devices you can see your progress that way) I decided to give up. Iriarte suggested me the book because it is a classic that goes over adventures, friendship, evil and also has somehow some relation with my new ¨country of adoption¨ as jungles, colonialism and other topics are part of the novel. It was also Iriarte the one who recommended me to quit a book if I didn´t like it after a while, so I followed both advices:
- To try to read Lord Jim.
- To quit not liking it.
I may try to start it again in the future, because sometimes it ´s just not the right moment.
¨Into thin air¨ is divided in 21 chapters. At the beginning of each chapter the author extracts paragraphs from other books or quotes from other climbers, trying to give more sense to this challenge that is attempting to put your feet on the top of the highest mountain in the world. Funny that the one in chapter 15 is from the novel that I just quit.
¨There are many shades in the danger of adventures and gales, and it is only now and then that there appears on the face of facts a sinister violence of intention –that indefinable something which forces it upon the mind and the heart of a man, that this complication of accidents or these elemental furies are coming at him with a purpose of malice, with a strength beyond control, with an unbridled cruelty that means to tear out of him his hope and fear, the pain of this fatigue and the longing for rest: which means to smash, to destroy, to annihilate all he has seen, known, loved, enjoyed, or hated; all that is priceless and necessary –the sunshine, the memories, the future; which means to sweep the whole precious world utterly away from his sight by the simple and appalling act of taking his life¨.
-Lord Jim-
Joseph Conrad.
Here there are some other quotes from other chapters:
Chapter 13
¨Suffice it to say that (Everest) has the most steep ridges and appalling precipices that I have ever seen, and that all the talk of an easy snow slope is a myth…
My darling, this is a thrilling business altogether, I can´t tell you how it posseses me, and what a prospect it is. And the beauty of it all!¨
George Leigh Mallory, in a letter to his wife, June 28, 1921.
Chapter 14
¨Not only during the ascent but also during the descent my will-power is dulled. The longer I climb the less important the goal seems to me, the more indifferent I become to myself. My attention has diminished, my memory is weakened. My mental fatigue is now greater than the bodily. It is so pleasant to sit doing nothing –and therefore so dangerous. Death through exhaustion is –like death through freezing- a pleasant one.
-The Crystal Horizon-
Reinhold Messner
Chapter 17
¨(O)ur wreck is certainly due to this sudden advent of severe weather, which does not seem to have any satisfactory cause. I do not think human beings ever came through such a month as we have come through, and we should have got through in spite of the weather but for the sickening of a second companion, Captain Oates, and a shortage of fuel in our depots for which I cannot account, and finally, but for the storm which has fallen on us within 11 miles of the depot at which we hoped to secure our final supplies. Surely misfortune could scarcely have exceeded this last blow… We took risks, we knew we took them; things have come out against us, and therefore we have no cause for complaint, but to bow to the will of Providence, determined still to do our best to the last….
Had we lived, I should have had a tale to tell of the hardihood, endurance, and courage of my companions which would have stirred the heart of every Englishman. These rough notes and our dead bodies must tell the tale.
Robert Falcon Scott, in ¨Message to the Public¨, penned just prior to his death in Antarctica on March 29, 1912, from Scott´s Last Expedition.
Chapter 18
¨Everest was the embodiment of the physical forces of the world. Against it he had to pit the spirit of man. He could see the joy in the faces of his comrades if he succeeded. He could imagine the thrill his success would cause among all fellow-mountaineers; the credit it would bring to England; the interest all over the world; the name it would bring him; the enduring satisfaction to himself that he had made his life worthwhile…. Perhaps he never exactly formulated it, yet in his mind must have been present the idea of ¨all or nothing¨. Of the two alternatives, to turn back a third time, or to die, the latter was for Mallory probably the easier. The agony of the first would be more than he as a man, as a mountaineer, and as an artist, could endure¨.
-The Epic of Mount Everest, 1926-
Sir Francis Younghusband
Chapter 21
¨I shall inevitably be asked for a word of mature judgement on the expedition of a kind that was impossible when we were all up close to it…. On the one hand, Amundsen going straight there, getting there first, and returning without the loss of a single man, and without having put any greater strain on himself and his men that was all in the day´s work of polar exploration. On the other hand, our expedition, running appaling risks, performing prodigies of superhuman endurance, achieving immortal renown, commemorated in august cathedral sermons and by public statues, yet reaching the Pole only to find our terrible journey superfluous, and leaving our best men dead on the ice. To ignore such a contrast would be ridiculous: to write a book without accounting for it a waste of time.
-The Worst Journey in the World, an account of Robert Falcon Scott´s doomed 1912 expedition to the South Pole-
Apsley Cherry-Garrad.
Out of all these quotes there is one that stands out, because it is in the first page of the book before the introduction. It is by the Spanish philosopher José Ortega y Gasset:
¨Men play at tragedy because they do not believe in the reality of the tragedy which is actually being staged in the civilized world¨.
The book is great but better than me explaining what is it about I copy the back cover:
¨When Jon Krakauer reached the summit of Mt. Everest in the early morning of May 10, 1996, he hadn´t slept in fifty-seven hours and was reeling from the brain-altering effects of oxygen depletion. As he turned to begin his long, dangerous descent from 29,028 feet, twenty other climbers were still pushing doggedly toward the top. No one had noticed that the sky had begun to fill with clouds. Six hours later and 3,000 feet lower, in 70-knot winds and blinding snow, Krakauer collapsed in his tent, freezing, hallucinating from exhaustion and hypoxia, but safe. The following morning he learned that six of his fellow climbers hadn´t made it back to their camp and were in desperate struggle for their lives. When the storm finally passed, five of them would be dead, and the sixth so horribly frostbitten that his right hand would have to be amputated.
Into Thin Air is the definite account of the deadliest season in the history of Everest by the acclaimed journalist and author of the bestseller Into the Wild. On assignment from Outside magazine to report on the growing commercialization of the mountain, Krakauer, an accomplished climber, went to the Himalaya as a client of Rob Hall, the most respected high-altitude guide in the world. A rangy, thirty-five-year-old New Zealander, Hall had submitted Everest four times between 1990 and 1995 and led thirty-nine climbers to the top. Ascending the mountain in close proximity to Hall´s team was a guided expedition led by Scott Fischer, a forty-year-old American with legendary strength and drive who had climbed the peak without supplemental oxygen in 1994. But neither Hall nor Fischer survived the rogue storm that struck in May 1996.
Krakauer examines what it is about Everest that has compelled so many people –including himself- to throw caution to the wind, ignore the concerned of loved one, and willingly subject themselves to such risk, hardship and expense. Written with emotional clarity and supported by his unimpeachable reporting, Krakauer´s eyewitness account of what happened on the roof of the world is a singular achievement¨.
I enjoyed reading the book big time. I would have enjoyed it even more reading it in Spanish, but it is not translated in Spanish for Kindle. With the Spanish translation would have also come the conversion from feet into meters, which are continuously referenced, as it is logical.
Long time ago I read also ¨Into the wild¨ by the same author and then I watched the movie. Based on ¨Into thin air¨ there is also a movie that is now in my to-watch list.
This book that I borrowed from the library has a lot of pictures and maps explaining their route to the top. There is also a list of all the expeditions and members that were at Everest Base Camp in that Spring 1996. The only Spaniard was Araceli Segarra, who that year she became the first Spanish woman to climb Mt. Everest. She was part of the ¨MacGillivray Freeman IMAX/IWERKS Expedition¨ lead by film director David Breashears. In the book it is described how they helped to rescue climbers who were struggling for their lives:
Page 250:
¨Through April and early May, Rob Hall had expressed his concern that one or more of the less competent teams might blunder into a bad jam, compelling our group to rescue them, thereby ruining our summit bid. Now, ironically, it was Hall´s expedition that was in grave trouble, and other teams were in the position of having to come to our aid. Without rancor, three such groups –Todd Burleson´s Alpine Ascents International expedition, David Breashears´s IMAX expedition, and Mal Duff´s commercial expedition –immediately postponed their own summit plans in order to assist the stricken climbers.
The day before –Friday, May 10- while we in Hall´s and Fischer´s teams were climbing from Camp Four toward the top, the Alpine Ascents International expedition headed by Burleson and Pete Athans was arriving at Camp Three. On Saturday morning, as soon as they learned of the disaster that was unfolding above, Burleson and Athans left their clients at 24,000 feet in care of their third guide, Jim Williams, and rushed up to the South Col to help.
Breashears, Ed Viesturs, and the rest of the IMAX team happened to be in Camp Two at that time; Breashears immediately suspended filming in order to direct all of this expedition´s resources toward the rescue effort. First, he relayed a message to me that some spare batteries were stashed in one of the IMAX tents on the Col; by midafternoon I´d found them, allowing Hall´s team to re-establish radio contact with the lower camps. Then Breashears offered his expedition´s supply of oxygen –fifty canisters that had been laboriously carried to 26,000 feet – to the ailing climbers and would-be rescuers on the Col. Even though this threatened to put his $5.5 million fil project in jeopardy, he made the crucial gas available without hesitation¨.
This same expedition that the Spaniard Araceli Segarra was part of and that helped in the rescue the days after May 10, reached the summit of Everest about 10 days later.
Page 276:
¨On Wednesday, May 22, the IMAX team arrived on the South Col, in perfect weather, and set out for the top that night. Ed Viesturs, who had the starring role in the film, reached the summit at 11:00 Thursday morning, without using supplemental oxygen. Breashears arrived twenty minutes later, followed by Araceli Segarra, Robert Schauer, and Jamling Norgay Sherpa –the son of the first ascendant, Tenzing Norgay, and the ninth member of the Norgay clan to climb the peak. All told, sixteen climbers summited that day, including the Swede who´d ridden his bike to Nepal from Stockholm, Goran Kropp, and Ang Rita Sherpa, whose ascent marked his tenth visit to the top of Everest¨.
Araceli Segarra is not only a very good looking woman and the first Spanish woman to climb Everest, but also a very talented person as you can see in her Website: http://aracelisegarra.com/ing/biografia.php Last October 15th she published her first book ¨Ni tan alto, ni tan difícil¨ -she has published books for children- that goes also to my to-read list.
After finishing this book I started another one related to orangutans, called ¨Reflections on Eden¨ by Biruté Galdikas. But I don´t like reading in English so I quit, to read in Spanish ¨The Hunger Games¨.